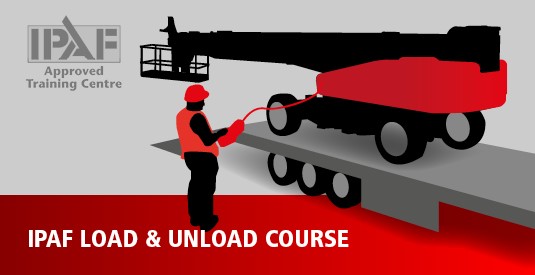 Course Overview
The IPAF Load and Unload Course delivers a minimum of 7 hours of both classroom and practical instruction for the safe loading and unloading of MEWPs on beaver tail and slide bed transport vehicles. Loading and unloading should be carried out by trained and competent staff who are aware of the risks involved. Drivers should also be aware of the additional risk of the load, or part of the load, it's distribution, moving when the vehicle is being driven. This applies to all vehicles and to all types of load. The driver is ultimately responsible for the load carried on their vehicle, whether or not they were involved in the securing of the load.
All delegates wishing to attend the IPAF Load & Unload training course must have successfully passed the IPAF Operator Course prior to attending and hold a valid IPAF PAL Operator Card in the category that they wish to be trained to load and unload.

This course consists of an instructor led training room presentation, written assessment, practical training and assessment.