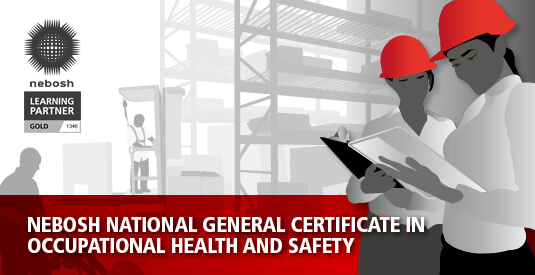 Course Overview
The NEBOSH National General Certificate in Occupational Health and Safety course is one of the UK's most popular and respected health and safety qualifications. Offering a valuable overview of the core aspects of occupational health and safety, the course provides an excellent platform for individuals who are looking to build upon their knowledge and skills and take their career forward.
Participants will gain a thorough knowledge of health and safety legislation and its practical applications during the course. They will learn how to spot workplace hazards and how to prevent them, as well as to assist in your company's safety management programme. The course results in a real return on investment by giving you the know-how that could help you to reduce insurance and sickness-absence costs, improve staff morale, behaviours and minimise the potential for prosecution or other enforcement action.
This course consists of a training room lectures, DVD presentation, an open book assessment and workplace project.