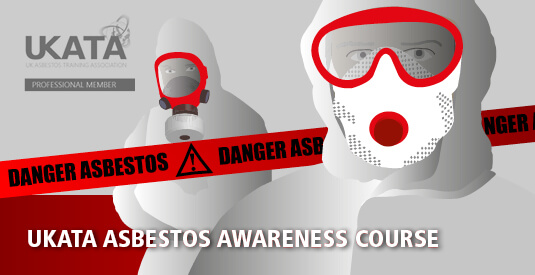 Course Overview
Our UKATA Certified Asbestos Awareness Course delivers a minimum of 4 hours of learning time and is designed to instruct up to a maximum of 12 delegates, providing training for those who need a basic understanding of asbestos and its potential risks. Asbestos is responsible for approximately 4500 deaths every year. Asbestos was commonly used in building materials until 1999 where the UK Government banned the use of all asbestos containing materials (ACMs). As a result, it is still possible for individuals to come into contact with asbestos, and repeated exposure can lead to asbestos related diseases such as mesothelioma or lung cancer.

Delegates who are responsible for the repair and maintenance of commercial property will be able to identify and deal with asbestos, and meet their legal 'duty to manage'. Exemption from this requirement for training, only applies when it can be demonstrated that the working environment is free from all asbestos-containing materials (ACM's.)
This course consists of a training room lecture, DVD presentation, written assessment, practical training and assessment.