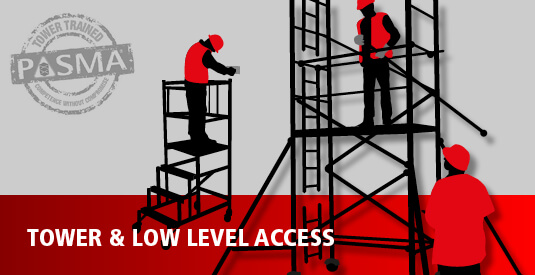 Course Overview
Our PASMA Combined Tower and Low Level Access Course delivers a minimum of 7 hours of instruction and is designed to instruct up to a maximum of 8 delegates. This course is aimed at giving FULL competence in assembling, altering, inspecting, moving and dismantling mobile towers, folding low level room scaffolds and podium work platforms manufactured in aluminium alloy or fibreglass, approved to BS EN 1004: 2004 or Low Level Access Units, to PAS250, and which carry a current British Standard or other equivalent mark of approval.
The PASMA Combined Tower & Low Level Access Course can be used as the prerequisite for all of the advanced modules such as Stairs and Cantilever Courses.
This course consists of a training room lecture, DVD presentation, written assessment, practical training and assessment.