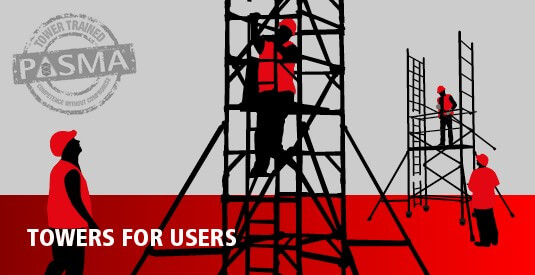 Course Overview
Our PASMA Towers for Users course will equip you with the specialist knowledge you need to work safely with mobile access towers. Spend one day at our approved PASMA Training Centre with one of our expert instructor and go back to work knowing:

How to safely assemble, dismantle, alter and move mobile access towers
How to safely use mobile access towers
How to inspect mobile access towers
How to identify hazards relating to their use
What legislation, regulations and guidance are applicable to these towers
If you're new to towers or tower training, Towers for Users is the ideal starter course. It's our flagship course, taken by more than 70,000 delegates each year. Once you've completed it, you become eligible for more advanced courses which cover different tower configurations, like PASMA Linked Towers for users, PASMA Towers on Stairways for Users, PASMA Cantilever Towers for Users or PASMA Towers with Bridges for Users.